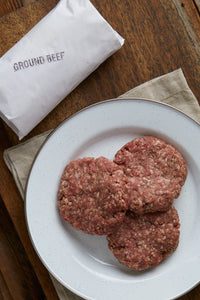 We will have more beef available in December 2023!
Pasture raised, grain finished beef. Locally raised on the ranch from birth to harvest. Our beef are finished on a quality locally sourced beef builder grain for the last 90 days.
We implement Certified Angus Beef genetics which produces top quality beef. You will notice a huge difference in marbling, tenderness and taste! Your beef tastes better when it's raised by family ranchers who prioritize caring for the land, the cattle and the community.

Additionally, we are Beef Quality Assurance certified. Which means we strive to use the best handling and care for our cattle their entire lives. We practice good husbandry techniques and accepted scientific knowledge to raise cattle under optimum management conditions. 
The well being of our animals is our #1 priority. 
**beef deposits are non-refundable** this will be deducted after calculating the live weight of your beef. See the breakdown below. 
Beef will weigh approximately between 1,000-1,500 lbs live weight.

Live Weight Fee paid direct to Flying F Ranch: $2.75/lb live weight weighed week of slaughter.

Slaughter fee: $250 
Butcher Fee paid to the butcher: $1.50/lb hanging weight (approx 60% of live weight) this price is subject to change with the butcher shop. 
How it works:
We receive your deposit which locks you in for a share of beef. We will keep you updated through email regarding everything you need to know about your beef. 
A week before the butcher date, we will weigh the steers and send you an invoice for your remaining balance paid to Flying F Ranch. This must be paid in full prior to picking up beef at the butcher shop. 
We will let you know when to expect processing to occur, cut and wrap instructions, details regarding pick up day plus recipes and additional resources!
We do offer delivery if we have enough customers on board. We prefer to do several deliveries in one trip which is most cost effective for all parties. If you are interested in delivery, we will discuss your options when you have submitted a deposit.